I can pretty safely say that I had never had cheese cooked as a sauce growing up.
When we were still living in Japan, I asked my husband, my boyfriend back then, what kind of food he used to like as a kid.  One of the answers was Macaroni & Cheese.  I simply could not picture how melted cheese could coat macaroni nicely without curdling or getting partially lumpy or chewy.  Moving to the States, I was so thrilled to finally try Macaroni & Cheese.  Yes, that one, the one that comes in a dark blue box with a picture of vivid orange macaroni.  I don't deny that at that moment I did not know how to react, but after a few scoops, I loved it.  I still believe that orange powder that comes in a packet has something that's mentally addicting.
With the love for instant Mac & Cheese growing in me, I started making my home style Mac & Cheese.  Observing tons of great food bloggers' and food web sites' recipes, and of course with errors and corrections, this is so far the best one of mine.
I put it in home made deep dish pizza and topped it off with Basic Italian Tomato Sauce.
Mac & Bleu Cheese (Filling/Topping for Pizza)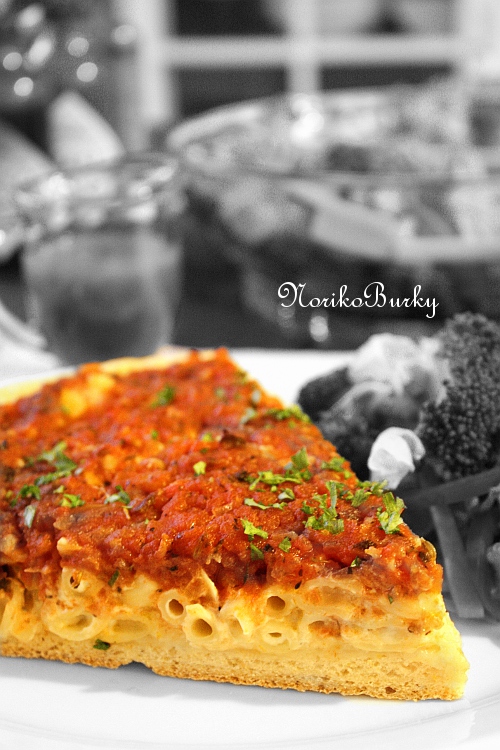 | | | |
| --- | --- | --- |
| Mac & Bleu Cheese (Filling/Topping for Pizza) | | |
Author:
Hearty and fulfilling homemade macaroni & cheese.
Ingredients
1 1/2 cups uncooked macaroni
2/3 cup crumbled bleu cheese
2/3 cup heavy cream
3/4 cup sour cream
1/2tsp garlic paste
1/4tsp black pepper
Instructions
Cook macaroni to al dente according to the package instruction. Drain.
In a 3 qt. pot, heat all the rest of the ingredients over medium heat.
Add cooked macaroni and combine well.
This stuffed pizza was a big hit in my family and has become one of our favorite combinations right away.  I put chipotle TABASCO on my slice.  I'm not a big fan of original TABASCO but this chipotle one is a completely different classification of hot sauce in my opinion.  Its smoky fume and mild spiciness adds a fantastic but not over-powering kick to this delicious meal.